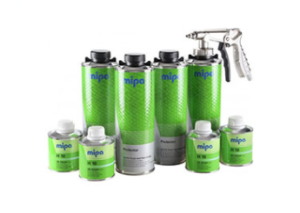 Mipa Protector2K-PU-Truck bed liner Black – KIT
Intended use:
Highly resistant 2K polyurethane-acrylic paint for a scratch-resistant and robust black coating of truck bed surfaces (e.g. Pick-Up truck beds) and of all heavy duty surfaces on commercial vehicles, off-road vehicles, camping cars, trailers and SUVs etc.
Beside its very high wear resistance Mipa Protector provides also an excellent mechanical and chemical resistance. The very high vertical stability allows applying extremely high-build coatings. Easy to use since 750 ml paint material is already filled in 1 litre cans for underbody sealants. Just add 250 ml of the hardener Mipa 2K-Härter H 5 or H 10. Shake than the can vigorously and apply the mixture using an underbody sealant spray gun. Is possible to achieve three different textures (see TDS below) – rough texture, Medium texture and fine texture.
Mipa protector Tintable:
Mipa protector is also available in many other colours. Tintable with Mipa BC, Mipa OC, Mipa PUR-HS, Mipa PUR and Pro Mix® Industry pigment past. Please contact us for available colors.
Kit Includes:
4 pcs Mipa Protector Black – 750ml
4 pcs H10 Hardener – 250ml
1 spray gun